Have you ever read Courtney's blog "Storing Up Treasures"? I do. Every day. We don't have a lot in common...yet. ;) Someday I can't wait to sit down at my dinner table and see lots of little faces that are LEGALLY mine, but for now, sitting around my dinner table when all 7 of us are here is pretty darn close to perfect... for now.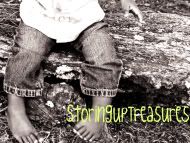 Anyway, Courtney just added a "Blogs of Note" page to her blog so people can check out what she reads and who reads her blog...you know...friends meeting friends...who have never met in real life...isn't the internet great? :)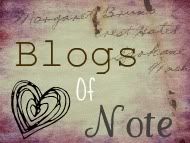 So, if you haven't checked her out, go check her out. She is a real person and I think that comes out in her writing, that is what I like about it.
Now, I am off to see how many times I will end up watching "The Time Traveler's Wife" while it is on HBO this month...I think that this is number 3...